Always eager to support our American Heartland, we're offering you a very rare and unique opportunity to join us for a fun and fascinating adventure into the frontier state of Oklahoma!  Situated between the Great Plains and the Ozark Plateau, its rich history makes it a destination we are super-excited to explore!  For instance, did you know 39 American Indian tribes are headquartered in the state of Oklahoma?  Or that it's one of the top go-to settings for American Western films?  Or that it's home to one of the largest livestock markets in the world – yes, the world!  Or that Historic Rt. 66, America's Mother Road, cuts clear acr0ss the state from one side to the other?! ~ Just have a look on the next pages at the variety contained in this itinerary – it's going to be a wonderful time with the TLC Gang as we take this memory-making journey together!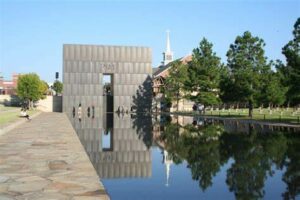 Brand-New Premiere Tour for TLC!
11 Days of Adventure & Discovery
DAY ONE:  With adventure in the air and spirits of explorers, we embark on a journey to the great state of Oklahoma, our 20th largest state which is located between the Great Plains and the Ozark Mountains near the geographical center of the 48 contiguous states!  Today's travels allow us time to get-acquainted with our TLC travel mates as we make our way to our overnight in Effingham, IL.  Enjoy dinner at Niemerg's Steakhouse. (D)
DAY TWO:  Primarily a travel day, we relax on our beautiful motorcoach and let our top-notch TLC Driver take us across the "Show Me" state of Missouri and into the northeast section of Oklahoma. Rest stops and a lunch stop are planned for your traveling comfort.  After check-in at our Tulsa hotel, we sit down to a Welcome Dinner at a local favorite. (B, D)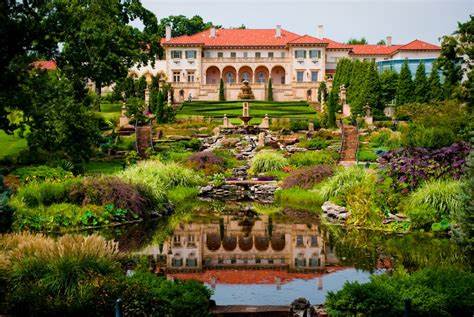 DAY THREE:  We're joined by a step-on Guide for a very fun day of touring the 2nd largest city in the state. Situated on the Arkansas River, it originated in 1836 as a settlement of Creek Indians who named it for their former town in Alabama. This white settlement began after the arrival in 1882 of the St. Louis-San Francisco Railway. – We have many things to see today, including the massive Philbrook Estate located in a former 1920's villa, "Villa Philbrook", the home of Oklahoma oil pioneer Waite Phillips and his wife.  Now a world-class museum, it boasts 25 acres of beautiful gardens and a world-class museum – a genuinely amazing place!  Other things we'll see & do today include:
* A stop at Buck Atom's Cosmic Curios which celebrates the magic of Route 66, the Mother Road – very fun!
* Lunch at the Mother Road Market
* A visit to the OKPOP Museum in the Tulsa Arts District reflecting Oklahoma's influence nationally and internationally – very well done!
* Peruse the Woody Guthrie Center dedicated to the legacy of this American folk musician/singer
* Spend 2 nights at the Post Oak Lodge just outside town – Dinner is included here plus an evening by the campfire with S'mores and Cowboy Billiards Entertainment under the stars! (B, L, D)
DAY FOUR:  Such a variety of touring is ahead of us today!  We begin with a walking tour at Reconciliation Park to learn of the Tulsa Race Riot and its impact on American History – Also see Greenwood Rising and Hope Plaza with the goal of transforming racial division into a hopeful future of peacemaking and cooperation for Tulsa and the Nation.  Returning to the Route 66 theme, we enjoy lunch at Dilly Diner and then visit the hillside Will Rogers Library, garden & theater honoring this American vaudeville star and social commentator, also born a citizen of the Cherokee Nation and later known as "Oklahoma's Favorite Son".  Continuing on, we make a photo stop at 'The Blue Whale of Catoosa', one of the most recognizable icons on Rt. 66 – get your picture taken with it!  Returning to our hotel, we get ready for our special Dinner & Entertainment at the 'Heart of Route 66 Auto Museum' in Sapulpa.  Housing vintage cars and a host of Rt. 66 memorabilia, there's LOTS to see & do amidst the retro fun of a real Sock Hop, complete with a DJ right out of our pasts!  What a great time & nostalgic experience – Can't wait for the Party!! (B, L, D)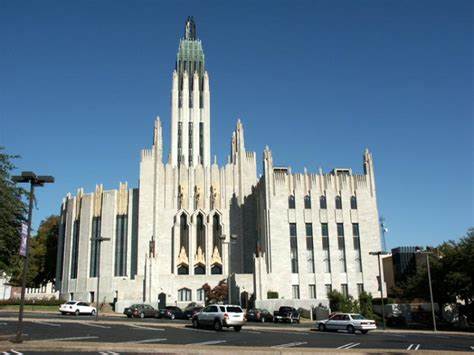 DAY FIVE:  Another day of 'adventures in sight-seeing' ahead – love it!  We visit the Boston Ave. United Methodist Church, a Nat'l Historic Landmark boasting 15 floors (Wow!), and one of the finest examples of Ecclesiastical Art in the USA!  Then inside another historic church, we'll see how it was turned into a recording studio for Shelter Records – really interesting!  Next is our arrival at the Marland Mansion in Ponca City – the story is fascinating, and the home of Oklahoma's 10th Governor is an architectural wonder!  Learn of the Marland family and the industry that made it all possible in this 'oil boom town'.  We check into a nearby hotel and later take our seats for dinner and entertainment at Marland's Grand Home, the oil tycoon's marvel finished in 1916 in the Renaissance Revival-style – stunning!  (B, D)
DAY SIX:  Today presents a visit to Standing Bear Park where we'll learn the moving story of this great Indian who won the battle to be called "a person" under United States law.  We'll also visit the Pioneer Woman Museum which seeks to preserve the legacy of women of all races, creeds, and nationalities who contributed to the development of Oklahoma.  It features craft demos, interactive exhibits, and the Walk of Fame dedicated to the enduring spirit of women who see no boundaries. Then we head for another "Pioneer Woman" visit… this time it's Ree Drummond of TV fame!  Arriving in Pawhuska, the Pioneer Woman Mercantile is housed in a 100-year-old Osage Mercantile building, renovated by Ree and her husband Ladd, so they could give visitors a taste of small-town hospitality! "The Merc" has gorgeous goods, comfort foods, fresh-made pastries, delicious coffee, and plenty of fun!  We include a light lunch while we're here – how fun! – Later, the VP of Osage County Tourism will meet us to share interesting stories about the Osage Nation and a movie that was filmed here.  Then he'll walk with us to the Ben Johnson Cowboy Museum, an amazing collection of notable cowboys, cowgirls, and western heritage – really cool! – Later, we're guests for a very special style show featuring women from different tribes wearing their own tribe's clothing and explaining why they're wearing what they have on.  The Indian Women's Club will also have jewelry and household items to show and sell.  You'll have a chance to have your picture taken with them, as well! – Dinner is at the Bartlesville Community Center designed by the Frank Lloyd Wright Foundation, and includes the world's largest cloisonné artwork, a mural that depicts a stylized northeastern Oklahoma countryside. – We'll also tour the Price Tower Center nearby, located inside the only skyscraper designed by Frank Lloyd Wright, a 19-story landmark. ~ What a fascinating day! (B, L, D)
DAY SEVEN:  Our wonderful morning starts off in the rugged Osage Hills at a sprawling wildlife preserve and rustic lodge known as the Woolaroc Museum & Wildlife Ranch.  This 3,700-acre property was built in 1925 for Frank Phillips, founder of Phillips Petroleum Co.  Home to many species of native and exotic wildlife, such as bison, elk and longhorn cattle, it also offers a 50,000 sq. ft. Museum with an outstanding collection of Native American & Western Art and artifacts, Colt firearms, and so much more!  – Get lunch on your own at Eskimo Joe's in Stillwater before embarking on a very interesting Guthrie Guided Walking Tour followed by dinner at Gage's Steak House in town. – Then relax on our comfy coach as we journey to Oklahoma City (aka OKC) and check into our hotel for the next three nights. Rest up – a great time in the capital of Oklahoma is just ahead! (B, D)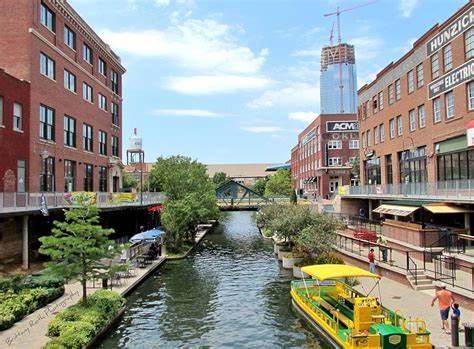 DAY EIGHT:  We're joined by a local Guide who whisks us off to Historic Bricktown for a Canal Cruise through the heart of downtown OKC's entertainment district! This water taxi ride will be narrated by a knowledgeable ambassador as you glide past notable spots – how fun! – Visit the American Banjo Museum dedicated to the rise of the banjo in North America, plus enjoy a live demonstration! – Another special adventure will be discovering the rich history and thriving business of the latest Vietnamese community in the USA!   Be introduced to "Pho", how to eat it and how it's made – and roll your own spring roll while tasting Vietnamese coffee – A great opportunity! – Then we visit the OKC National Memorial & Museum and experience their Survivor Tour.  See the garden, pool, & sculptural memorial commemorating victims of the 1995 Murrah Building bombing.  Dinner back in Bricktown and a view of the OKC Memorial illuminated at night round off a full day of exploration and education = excellent! (B, L, D)
DAY NINE:  Another opportunity to experience something you're probably never encountered before… we pay a visit to the Museum of Osteology, a private center devoted to the study of bones and skeletons! It celebrates vertebrate life by providing an engaging adventure full of discovery, with the hopes that their guests will cultivate an appreciation of the natural world and ultimately lead to conservation for the future. This amazing collection includes over 350 species from all over the world – you'll be fascinated! – The brand-new "First Americans Museum" introduces you to the histories of 39 different 'First American Nations'.  Captivating insights will give you a new appreciation for the culture diversity and plethora of contributions these pioneers made. – At the 215,000 sq- ft. OK History Center, explore native culture, aviation, commerce and more at this Smithsonian affiliate – a fabulous visit! – A great evening is ours today as we journey to the award-winning National Cowboy and Western Heritage Center where we begin with a tour of America's premier institution of Western history, art and culture – this place is truly outstanding!  You'll also enjoy sculpture gardens, water features, and a lovely gift shop!  Then… it will be time for some good-ol'-fashioned fun at a real Country Western Shindig!  A delicious dinner is included before the Party begins… the rustic warmth and friendly nature of a 'shindig' will fill the room! (B, D)
DAY TEN:  We won't want to, but it will be time to say good-bye to Oklahoma and begin our journey home by traveling to St. Louis, Missouri for our overnight.  Sit back and take in the sights as our TLC Driver delivers us to the lovely Drury Inn – you can catch a view of the St. Louis Gateway Arch as you near the hotel.  A relaxing dinner will be included nearby. (B, D)
DAY ELEVEN:  Today we finish our drive home with memories overflowing from an outstanding visit learning more about America's Heartland on our special tour called "Party on the Prairie"! (B)
Includes: Deluxe escorted motorcoach transportation, 10 nights' accommodations, 24 meals (10 Breakfasts, 4 Lunches, 10 Dinners), activities as listed, luggage handling and taxes.
       $3,685 per/person, double occupancy
       $3,435 per/person, triple occupancy
       $3,295 per/person, quad occupancy
       $4.455 single occupancy
Please note: The following are TLC's general polices and procedures that cover all of our tours, so some of these may or may not be applicable to this particular tour.
Seating:
On all overnight tours, we use a daily seat rotation. The first day of a trip, you choose your seat when you board, and rotate from there. We feel this is fair to all. If the coach is not full, a less formal rotation may be used at the Escort's discretion. Persons traveling single or with uneven amounts in their group may need to sit with other like-travelers. We cannot guarantee that small groups will be seated together. We welcome single travelers, but the single rate does not include two seats on the coach. * We cannot accept doctor's notes regarding requests to sit in the front seat/s. Please consider boarding at the first pickup location if your seat location is of concern. It is also recommended to see your doctor for motion sickness medication, if this should apply.
Smoking/Drinking:
We make regular stops for restrooms and for the convenience of smokers; however, we have a NO SMOKING (or vaping) policy aboard all coaches. If someone violates the non-smoking policies of places we are staying or visiting while on tour, it is the sole responsibility of that person should there be any penalties and/or fines for not adhering to their rules and regulations. Consumption of alcoholic beverages is not permitted at any time on the coach.
Transportation:
All of our tours use beautiful modern, deluxe wide-body motorcoaches from Campbell Bus Lines. Campbell has received the highest possible rating with the Dept. of Transportation. The motorcoaches are equipped with air-conditioning, reclining seats, public address system, DVD player, outlets for each passenger, and emergency restrooms. Our intent is for all overnight tours to be professionally escorted. Upon occasion, in order to avoid canceling a trip with a low passenger count, our Driver may serve both positions of Driver and Escort, and all are professionally trained to do so. ~ Also, on air trips with low passenger counts, we will not be able to provide an Escort from our company. However, once you arrive at your destination, a guide from our connecting company will be with you throughout the entire tour.
Lodging and Meals:
Your lodging is included on all overnight tours. All hotels are AAA rated. We never use second rate hotels, restaurants, or activities on any tour, to the best of our ability to make that determination. If you need two beds in your room, please state this when making your reservation. Generally, some meals are included on overnight trips (see individual tour inclusions); however, we cannot guarantee any special dietary requirements.
Border Crossings:
As of June 2009, a Passport or Passport Card is required for border crossings. Either of these travel documents may be obtained through your local courthouse. The Passport Card is limited but is sufficient for Canadian border crossings and is good for 10 years – it is also very easy to apply for. Your Driver and/or Escort will be asking to see one of these documents before boarding the coach for trips with this requirement. We cannot be responsible if you are unable to travel due to failure on your part to obtain the proper documentation. Please begin the process early enough to ensure that you will have it in time for your tour's departure. Click here for for more information.
Luggage:
One suitcase per person is included in the price of your tour. You are also permitted a carry-on, which is your responsibility. Additional luggage may be transported at the cost of $10.00 per bag, per day. It is wise to travel light. Luggage tags are provided and required for hotel identification and are sent with the final letter and phone numbers of your hotels.
Medical Devices: 
Medical devices must be handled by you, the passenger.  They are either to be stored under your seat (not protruding out into the person's space behind or in front of you), or if too large for that accommodation, they must be placed under the coach by you, and taken off at each place it's needed by you.  It is not safe for a medical device to ride in an overhead compartment for multiple reasons, nor are our Drivers or hotel personnel allowed to handle it for safety and liability reasons.  If it needs to ride under the coach, please have it in a quality container (as small as possible) to assure it rides safely.
Taxes and Gratuities:
All taxes and gratuities for included meals and activities are included, unless otherwise mentioned by the Escort. Driver and Escort gratuities are not included in the price of your tour. The suggested rate for a "job well done" is a minimum of $4.00-$4.50 per person/ per day for the Tour Escort, and a minimum of $4.00-$4.50per person/per day for the Driver. We request that you express this on an individual basis and let the quality of service received be your guide.
Payment:
All prices listed are per/person rates. On one day tours, full payment must be made with the reservation. For overnight tours, see "How To Make A Reservation". Balance of an overnight tour is due 45 days prior to departure (unless otherwise stated/notified). Confirmation will be sent after we receive your deposit. Please call as soon as possible if you should decide not to go.
FYI:  About a week before your overnight trip departs, you will receive from our office a letter packet with updated itinerary, passenger list, departure and return times, luggage tags, hotel phone numbers, and other pertinent information.
1– Our intent is to have all our tours accompanied by one of our professional Escorts –  However, occasionally a low passenger count may make it necessary to send that tour out as "Driver Only" in an effort to ensure that the trip you wanted to go on does not have to be cancelled.  Please be assured our Tour Drivers are first-class professionals, capable of handling any trip we offer from beginning to end.  You will be in great hands and have a wonderful time!
2- Please Note – We're truly sorry if we've canceled a trip that you wanted to go on.  Sometimes excellent trips with super itineraries are canceled when people wait 'til the last minute to put in their reservation.  OUR monies are usually due at least 45 days ahead on regular trips, and sometimes 90 on certain ones.  If we don't have enough signed up at that time, we have no choice but to cancel it.  Then when you call later, it's already too late… and disappointing for us all!  Please help us and CALL EARLY – Thank you so much.
3- The information about trips on this website (funwithtlc.com) is complete.  It contains the same information that a paper flyer has.  However, if you prefer a paper flyer you can call for Fully Detailed Flyers for Most Trips of 3 Days or More. We'll gladly send extras for you to pass along to your friends!  We will also happily send a Tour Book to anyone you feel would enjoy receiving one.
Refunds:
Up to 45 days prior to departure date, a full refund will be made. *Air and cruise tours, and some longer tours, may be different—be sure to ask for details when making your reservation. Tours including tickets also generally have earlier non-refundable dates. There are no refunds for cancellations made within 45 days prior to your departure date. However, we will do our best to recover as much as we can, but cannot guarantee anything including prepaid reservations and other costs that are non-refundable to us. There will be a $25.00 per/person charge for this service. There will be no refund, for any reason, for a "no-show" on the day of the tour.
Please Note: Refunds will be made by the same method you paid us, e.g., if you paid by credit card, the refund will be put back on that credit card. No exceptions.
TLC Tours offers a "Refund Protection Plan" for overnight tours that is available at our office at a minimal cost. It needs to be purchased when you book your trip. This insures you a full refund in case of:
A.) a death in your immediate family (requires a copy of death notice)
B.) personal illness (requires a doctor's written note confirming you were too ill to travel)
C.) Exceptions would be made if an immediate family member's serious illness necessitates you staying home but would still need confirmed by a doctor's note. *Immediate family, in these situations, includes spouse, parents or children only.
Call our office for full details about TLC's RPP. We encourage you to take advantage of the protection plan, or secure insurance on your own if you prefer "cancel for any reason" coverage. Our Refund Protection Plan is not available for Day Trips, nor are there any refunds for Day Trips, with a few exceptions.
Cancellations:
TLC Tours reserves the right to cancel any tour that has not reached a minimum number of reservations. We always avoid changes and cancellations, if at all possible, as we realize the inconvenience to you, our valued customer. We reserve the right to cancel or refuse service to anyone, in our sole discretion. Any person may be dismissed from a tour at any time by the Tour Escort or Driver should their conduct be problematic in any way. No refund will be made, nor will any further responsibility be assumed by TLC Tours or anyone in their employment.
Responsibility:
TLC Tours, LLC is insured. Campbell Bus Lines is registered and insured with the ICC. TLC Tours acts only as an agent. We are not responsible to any person for any loss of time or money due to a change or delay beyond our control. Nor are we responsible for non-performance by those we have contracted with. We reserve the right to change tour prices, inclusions, and itinerary, if so, dictated by circumstances beyond our control. We are not responsible for pricing, typographical, or other errors. Any claims against TLC Tours must be made, in writing within 30 days of the trip.
HOW TLC IS ADDRESSING COVID/VARIANTS FOR 2023
We are so thankful that much of our country has 'opened up' and we are back to being able to travel freely, for those who desire to get out & about again.  While rejoicing over such good news, there are still a few things we must remain aware of that are listed below.  We believe these things are a very small price to pay to be "On the Road Again'! ~ Thank you for your gracious understanding and kind cooperation as we wisely embark on wonderful memory-making journeys together this year!
A- There are a few parts of the country that are still enforcing a mask mandate in their particular area. Please tuck a mask in your pocket just in case we should arrive somewhere and find out unexpectedly that we are required to wear one for entrance.  We continue to pledge to be good neighbors and help these establishments stay open by cooperating with whatever they are required to ask of us, and to do it with a good, kind spirit.  If you're not in agreement with this, please refrain from traveling with us at this time.
B- At this writing, all the places we plan to visit are open for business. However, as mentioned above, that can change by the time we arrive.  Should there be some place that is not able to take us, we will do our very best to substitute an activity or attraction of an equal quality.  We just have to "go with the flow" again this year somewhat – but trust me, every single place we plan to visit WANTS to be open for us and will be doing everything they can to do so.
C- We ask that you take your own temperature before leaving home on the morning of Day One, and if you show any fever at all, please stay home. If you have additional/other symptoms that suggest Covid-19 or a variant, we ask that you please stay home.  If you have been around someone with Covid-19/variant, or highly suspected Covid-19/variant, we ask that you please follow the CDC guidelines according to their timeline, and possibly stay home.  Any of these methods are somewhat dependent on the "honor system".  We trust that our upstanding TLC customers will "do the right thing" and not put anyone else at risk for contracting Covid or a variant on a TLC tour.
D- Should someone come down with Covid during or after their tour, we assume no responsibility or liability. We cannot control every minute of everyone's day, nor can we control how people handle themselves when off the coach. We have done our very best to secure accommodations and venues that state the highest sanitation protocols to the best of their ability. If on tour you should come down with Covid-19 or a variant, or strongly suspect it, you would be responsible to quarantine yourself and arrange for transportation home when appropriate. — By traveling with us, you are agreeing that TLC Tours, LLC will not be held responsible for contracting Covid-19 or a variant, nor liable for any expenses involved in any way.
E- If you do need to cancel at the last-minute because of having covid/variant, being exposed to covid/variant, or suspecting a possible case of covid/variant, our normal cancellation policies apply, just as they would to any other last-minute illness that prevents you from going on a tour. See General Information/Refunds in this book.  Without insurance, there is no refund except what we might be able to get back from individual vendors on your behalf.  We highly suggest taking out either our in-house Refund Protection Policy, or another more comprehensive insurance plan of your own choosing.
Overall, please lovingly respect the concerns of others if they differ from yours. 
Some may have health issues that cause them to be more cautions than you may feel is necessary for yourself.
– Here's the best plan: "Do Unto Others as You Would Have Others Do Unto You!" –
ON THE COACH
(1) Every Campbell coach is completely disinfected before they depart for a trip. You can be assured that the bus that arrives to pick you up has been thoroughly cleaned with an environmentally friendly solution that is EPA-approved, and not diluted or mixed at our facilities.  The solution is rated on the EPA K-List that supersedes the current EPA suggestion for elimination of Corona Virus and has no harmful properties.  It has received the Green Seal certification.  The solution is applied with electrostatic sprayers to increase coverage to eliminate all pathogens on hard surfaces.
(2) We have upgraded all air filters and increased the frequency that we change the air filters on the coach to reduce contamination.  Our motor coaches refresh the air on the coach every five minutes, and combined with the upgraded filters, will reduce stale used air in the coach.
 (3) We have UV lights in our HVAC system to eliminate any airborne pathogens.
(4) Disinfecting wipes available for the Driver & Escort, and hand sanitizer on board for your use.
(5)  Should the situation regarding pandemic conditions rise during the year, we are prepared to increase the level of our procedures accordingly.
For TLC DAY TRIPS:
For day trips, we do not have any insurance or Refund Protection Plan available.  Payment must be made in full when booking a day trip, and if you cancel your reservation up to 45 days prior to the trip's date, you will receive a full refund.  *Occasionally a day trip may have a different cancellation date other than 45 days out – it is good to inquire when making your reservation.  — If TLC should need to cancel the entire day trip, you will receive a refund.
For TLC OVERNIGHT MOTORCOACH TOURS:
For most overnight tours, a full refund will be made up to 45 days prior to departure date. However, some of our tours, especially the longer ones, may have a 60-day cancellation date.  The specific date will be listed on your confirmation which you will receive in the mail once you make your reservation. Tours including tickets may have earlier non-refundable dates – please inquire when making a reservation for a tour that includes tickets. There are no refunds for cancellations made within the 45 (or 60) days prior to your departure date. However, we will do our best to recover as much as we can, but cannot guarantee anything including prepaid reservations and other costs that are non-refundable to us. There will be a $25.00 per/person charge for this service. There will be no refund, for any reason, for a "no-show" on the day of the tour.
** Please Note: Refunds will be made by the same method you paid us; e.g., if you paid by credit card, the refund will be put back on that credit card. No exceptions.
TLC's REFUND PROTECTION PLAN for Overnight Motorcoach Tours:
 TLC has an in-house "Refund Protection Plan" which we offer for overnight motorcoach tours through our office at a minimal cost. It needs to be purchased when you book your trip. This insures you a full refund in case of:
) A death in your immediate family (requires a copy of death notice)
) Personal illness (requires a doctor's written note confirming you were too ill to travel)
) Exceptions would be made if an immediate family member's serious illness necessitates you staying home, but would still need confirmed by a doctor's note. *Immediate family, in these situations, includes spouse, parents or children only.
The RPP covers you up to the morning of departure; however, you must call your Escort (number will be provided) that morning before your pick-up time in order for the RPP to be valid.  She will need to call all the places the tour is going to change the passenger counts.  Failure to call the Escort that morning cancels your RPP coverage.
Feel free to call our office for full details about TLC's RPP. We encourage you to take advantage of the protection plan, or secure more comprehensive insurance on your own, if desired.
TLC "FLY TRIPS":
For any of our tours that involve flying, the connecting companies we use for our air tours offer their own insurance plans and instructions.  You will find that information listed on each tour's page and/or flyer near the respective pricing and other pertinent details.  It is up to you, of course, whether or not you choose to take insurance out, but it is highly recommended.