It's the most wonderful time of the year… and if you happen to be in New York City during this festive season, you'll see why the city has been featured in endless movies, TV shows and special events of every kind during the holidays.  Christmas in NYC is magical - decorations and lights in the city remain unparalleled ~ there's simply nothing like it! ~ Look at this.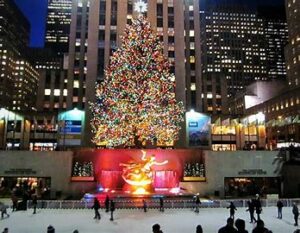 Holiday Markets, Downtown Hotel, Great Touring, and the Rockettes!!
DAY ONE: "Silver bells, silver bells… It's Christmas time in the city. ~ Ring-a-ling, hear them sing… Soon it will be Christmas day! "Yes, it will soon be here, and we are celebrating it in one of the most "Christmas-y" places in the USA – The Big Apple!  We'll relax on our deluxe coach as it takes us across PA and into Manhattan where accommodations for 4 nights await us in Midtown at the Holiday Inn Express (343 West 39th St. – about a 15 min. walk from Rockefeller Center/Times Square) so you can be near the festive excitement! * Dinner is included at Junior's Cheesecake (or similar) before turning in for a good night's rest so we're ready for the great days just ahead!  (D)
DAY TWO:  You'll start your Holiday Sightseeing the best way possible with a wonderful overview of the city as we embark on a Professionally Guided City Tour on our coach – See things such as Broadway's Theater District and famous St. Patrick's Cathedral, stop at Rockefeller Center to see the fabulous Christmas Tree & skating rink, and visit 'Top of the Rock' to ride the elevator to the Observation Deck on the 70th floor for a breathtaking view! * Get lunch in Times Square, the world's busiest intersection with the Spirit of Christmas oozing from every corner – so fun! * Next is our visit to the Bryant Park Holiday Market hosting artisans from NYC and the world!  This Winter Village is housed in special kiosks and is filled with Holiday Shops in the style of European open-air markets – you'll love this! * Laden with all those special gifts, it will feel good to sit down at Tick-Tock, an icon of the American diners with delicious food and family-friendly atmosphere. (B, D)
DAY THREE:  Our NYC Guide joins us again, and away we go for another day of exciting Holiday Merriment!  First, we'll drive to the Upper West Side to view "The Dakota', one of Manhattan's most prestigious and exclusive residential buildings. It's famous as the home of Beatle John Lennon and where he was murdered in 1980!
Tour St. John of the Divine Cathedral, the world's largest Gothic cathedral – hear the history of this great sacred space and be awed by the stunning stained-glass windows including the magnificent rose window, the largest in the USA!
Covering 843 acres, Central Park is unquestionably the most famous city park in America.  We'll drive by Vista Rock, the Belvedere Castle, and make a stop at 'Strawberry Fields'.  In a corner of Central Park, the Columbus Circle Holiday Market will transport you to a quaint German village enthralled in holiday spirit. With about 100 booths, the European-style market is one of the best and largest holiday markets in NYC!
Back on our coach, we continue with our driving tour to view Little Italy, Chinatown, and others as time permits.
A stop at Battery Park allows you to set your eyes on a 305-foot statue located on Liberty Island in Upper New York Bay, and our symbol of Freedom and Democracy, the Statue of Liberty.
Dinner is on your own at Westfield World Trade Center before we begin one of the true Highlights of this trip – a Holiday Lights Tour!  During the Season, Midtown Manhattan lights up like no other place in the world!  Mechanical window displays, synchronized light & sound shows, not to mention Santa and the toy soldiers that await you in this winter wonderland, an experience only NYC can offer! Lighting and window displays we'll see include Saks 5th Ave, Tiffany & Co, Macy's Herald Square, Bergdorf Goodman, and more – what a fabulous opportunity!!  But we're not done!  We stop at the renowned Union Square Holiday Mart, hailed as a must-visit spot for unique gifts. (B)
DAY FOUR:  This morning is Free Time so you can be part of the Hustle-Bustle in Times Square and Rockefeller Center – What fun to grab a hot chocolate from a street cart and stroll among the excitement & magic they hold!
Grand Central Holiday Fair offers a magical, one-stop holiday spree in one of the most beautiful architectural settings in the world and one of the finest indoor holiday fairs in the City.
I don't know that you'll ever see a show more outstanding than the "Radio City Music Hall Christmas Spectacular" featuring the famous Rockettes (pending availability). Over 140 sensational dancers perform in pure Christmas spirit for 90 minutes.  Sparkling costumes, breathtaking unique stage sets, and loads of joyous Christmas songs inspire audiences year after year!
Farewell Dinner in the heart of Manhattan.  Free rest of the evening to have fun as you wish – perhaps take in a Broadway Musical or a Carriage Ride in Central Park (costs on own) – ENJOY!! ( B, D)
DAY FIVE:  We won't want to, but it will be time to journey back to our pick-up points, taking home Once-in-a-Lifetime Memories from a sparkling New York City Holiday ~
* $1,725 per/person, double occupancy *   * $1,535 p/p, triple occupancy *
*$1,445 p/p, quad occupancy*   * $2,215 single *
* Special Note #1:  At this writing, everything we are planning to do was not able to be 100% confirmed, but we hope to include all that's listed.  Should something not be available, we will substitute it with another activity.  If you are concerned, ask about it before you pay your final balance.
* Special Note #2:  A friendly reminder that any trip to NYC does include a lot of walking!  This one, with all the markets, is no exception.
* Special Note #3:  In general, this tour is subject to cancellation if conditions in NYC are not favorable for a visit at the time – we want you to be safe and will know more closer to departure date.  Feel free to sign up for it (and we hope you will!), but please understand we may choose not to venture into NYC and will make that decision at least a month out at which time we will notify you for a full refund. ~Thank you for understanding.
Please note: The following are TLC's general polices and procedures that cover all of our tours, so some of these may or may not be applicable to this particular tour.
Seating:
On all overnight tours, we use a daily seat rotation. The first day of a trip, you choose your seat when you board, and rotate from there. We feel this is fair to all. If the coach is not full, a less formal rotation may be used at the Escort's discretion. Persons traveling single or with uneven amounts in their group may need to sit with other like-travelers. We cannot guarantee that small groups will be seated together. We welcome single travelers, but the single rate does not include two seats on the coach. * We cannot accept doctor's notes regarding requests to sit in the front seat/s. Please consider boarding at the first pickup location if your seat location is of concern. It is also recommended to see your doctor for motion sickness medication, if this should apply.
Smoking/Drinking:
We make regular stops for restrooms and for the convenience of smokers; however, we have a NO SMOKING (or vaping) policy aboard all coaches. If someone violates the non-smoking policies of places we are staying or visiting while on tour, it is the sole responsibility of that person should there be any penalties and/or fines for not adhering to their rules and regulations. Consumption of alcoholic beverages is not permitted at any time on the coach.
Transportation:
All of our tours use beautiful modern, deluxe wide-body motorcoaches from Campbell Bus Lines. Campbell has received the highest possible rating with the Dept. of Transportation. The motorcoaches are equipped with air-conditioning, reclining seats, public address system, DVD player, outlets for each passenger, and emergency restrooms. Our intent is for all overnight tours to be professionally escorted. Upon occasion, in order to avoid canceling a trip with a low passenger count, our Driver may serve both positions of Driver and Escort, and all are professionally trained to do so. ~ Also, on air trips with low passenger counts, we will not be able to provide an Escort from our company. However, once you arrive at your destination, a guide from our connecting company will be with you throughout the entire tour.
Lodging and Meals:
Your lodging is included on all overnight tours. All hotels are AAA rated. We never use second rate hotels, restaurants, or activities on any tour, to the best of our ability to make that determination. If you need two beds in your room, please state this when making your reservation. Generally, some meals are included on overnight trips (see individual tour inclusions); however, we cannot guarantee any special dietary requirements.
Border Crossings:
As of June 2009, a Passport or Passport Card is required for border crossings. Either of these travel documents may be obtained through your local courthouse. The Passport Card is limited but is sufficient for Canadian border crossings and is good for 10 years – it is also very easy to apply for. Your Driver and/or Escort will be asking to see one of these documents before boarding the coach for trips with this requirement. We cannot be responsible if you are unable to travel due to failure on your part to obtain the proper documentation. Please begin the process early enough to ensure that you will have it in time for your tour's departure. Click here for for more information.
Luggage:
One suitcase per person is included in the price of your tour. You are also permitted a carry-on, which is your responsibility. Additional luggage may be transported at the cost of $10.00 per bag, per day. It is wise to travel light. Luggage tags are provided and required for hotel identification and are sent with the final letter and phone numbers of your hotels.
Medical Devices: 
Medical devices must be handled by you, the passenger.  They are either to be stored under your seat (not protruding out into the person's space behind or in front of you), or if too large for that accommodation, they must be placed under the coach by you, and taken off at each place it's needed by you.  It is not safe for a medical device to ride in an overhead compartment for multiple reasons, nor are our Drivers or hotel personnel allowed to handle it for safety and liability reasons.  If it needs to ride under the coach, please have it in a quality container (as small as possible) to assure it rides safely.
Taxes and Gratuities:
All taxes and gratuities for included meals and activities are included, unless otherwise mentioned by the Escort. Driver and Escort gratuities are not included in the price of your tour. The suggested rate for a "job well done" is a minimum of $4.00-$4.50 per person/ per day for the Tour Escort, and a minimum of $4.00-$4.50per person/per day for the Driver. We request that you express this on an individual basis and let the quality of service received be your guide.
Payment:
All prices listed are per/person rates. On one day tours, full payment must be made with the reservation. For overnight tours, see "How To Make A Reservation". Balance of an overnight tour is due 45 days prior to departure (unless otherwise stated/notified). Confirmation will be sent after we receive your deposit. Please call as soon as possible if you should decide not to go.
FYI:  About a week before your overnight trip departs, you will receive from our office a letter packet with updated itinerary, passenger list, departure and return times, luggage tags, hotel phone numbers, and other pertinent information.
1– Our intent is to have all our tours accompanied by one of our professional Escorts –  However, occasionally a low passenger count may make it necessary to send that tour out as "Driver Only" in an effort to ensure that the trip you wanted to go on does not have to be cancelled.  Please be assured our Tour Drivers are first-class professionals, capable of handling any trip we offer from beginning to end.  You will be in great hands and have a wonderful time!
2- Please Note – We're truly sorry if we've canceled a trip that you wanted to go on.  Sometimes excellent trips with super itineraries are canceled when people wait 'til the last minute to put in their reservation.  OUR monies are usually due at least 45 days ahead on regular trips, and sometimes 90 on certain ones.  If we don't have enough signed up at that time, we have no choice but to cancel it.  Then when you call later, it's already too late… and disappointing for us all!  Please help us and CALL EARLY – Thank you so much.
3- The information about trips on this website (funwithtlc.com) is complete.  It contains the same information that a paper flyer has.  However, if you prefer a paper flyer you can call for Fully Detailed Flyers for Most Trips of 3 Days or More. We'll gladly send extras for you to pass along to your friends!  We will also happily send a Tour Book to anyone you feel would enjoy receiving one.
Refunds:
Up to 45 days prior to departure date, a full refund will be made. *Air and cruise tours, and some longer tours, may be different—be sure to ask for details when making your reservation. Tours including tickets also generally have earlier non-refundable dates. There are no refunds for cancellations made within 45 days prior to your departure date. However, we will do our best to recover as much as we can, but cannot guarantee anything including prepaid reservations and other costs that are non-refundable to us. There will be a $25.00 per/person charge for this service. There will be no refund, for any reason, for a "no-show" on the day of the tour.
Please Note: Refunds will be made by the same method you paid us, e.g., if you paid by credit card, the refund will be put back on that credit card. No exceptions.
TLC Tours offers a "Refund Protection Plan" for overnight tours that is available at our office at a minimal cost. It needs to be purchased when you book your trip. This insures you a full refund in case of:
A.) a death in your immediate family (requires a copy of death notice)
B.) personal illness (requires a doctor's written note confirming you were too ill to travel)
C.) Exceptions would be made if an immediate family member's serious illness necessitates you staying home but would still need confirmed by a doctor's note. *Immediate family, in these situations, includes spouse, parents or children only.
Call our office for full details about TLC's RPP. We encourage you to take advantage of the protection plan, or secure insurance on your own if you prefer "cancel for any reason" coverage. Our Refund Protection Plan is not available for Day Trips, nor are there any refunds for Day Trips, with a few exceptions.
Cancellations:
TLC Tours reserves the right to cancel any tour that has not reached a minimum number of reservations. We always avoid changes and cancellations, if at all possible, as we realize the inconvenience to you, our valued customer. We reserve the right to cancel or refuse service to anyone, in our sole discretion. Any person may be dismissed from a tour at any time by the Tour Escort or Driver should their conduct be problematic in any way. No refund will be made, nor will any further responsibility be assumed by TLC Tours or anyone in their employment.
Responsibility:
TLC Tours, LLC is insured. Campbell Bus Lines is registered and insured with the ICC. TLC Tours acts only as an agent. We are not responsible to any person for any loss of time or money due to a change or delay beyond our control. Nor are we responsible for non-performance by those we have contracted with. We reserve the right to change tour prices, inclusions, and itinerary, if so, dictated by circumstances beyond our control. We are not responsible for pricing, typographical, or other errors. Any claims against TLC Tours must be made, in writing within 30 days of the trip.
HOW TLC IS ADDRESSING COVID/VARIANTS FOR 2023
We are so thankful that much of our country has 'opened up' and we are back to being able to travel freely, for those who desire to get out & about again.  While rejoicing over such good news, there are still a few things we must remain aware of that are listed below.  We believe these things are a very small price to pay to be "On the Road Again'! ~ Thank you for your gracious understanding and kind cooperation as we wisely embark on wonderful memory-making journeys together this year!
A- There are a few parts of the country that are still enforcing a mask mandate in their particular area. Please tuck a mask in your pocket just in case we should arrive somewhere and find out unexpectedly that we are required to wear one for entrance.  We continue to pledge to be good neighbors and help these establishments stay open by cooperating with whatever they are required to ask of us, and to do it with a good, kind spirit.  If you're not in agreement with this, please refrain from traveling with us at this time.
B- At this writing, all the places we plan to visit are open for business. However, as mentioned above, that can change by the time we arrive.  Should there be some place that is not able to take us, we will do our very best to substitute an activity or attraction of an equal quality.  We just have to "go with the flow" again this year somewhat – but trust me, every single place we plan to visit WANTS to be open for us and will be doing everything they can to do so.
C- We ask that you take your own temperature before leaving home on the morning of Day One, and if you show any fever at all, please stay home. If you have additional/other symptoms that suggest Covid-19 or a variant, we ask that you please stay home.  If you have been around someone with Covid-19/variant, or highly suspected Covid-19/variant, we ask that you please follow the CDC guidelines according to their timeline, and possibly stay home.  Any of these methods are somewhat dependent on the "honor system".  We trust that our upstanding TLC customers will "do the right thing" and not put anyone else at risk for contracting Covid or a variant on a TLC tour.
D- Should someone come down with Covid during or after their tour, we assume no responsibility or liability. We cannot control every minute of everyone's day, nor can we control how people handle themselves when off the coach. We have done our very best to secure accommodations and venues that state the highest sanitation protocols to the best of their ability. If on tour you should come down with Covid-19 or a variant, or strongly suspect it, you would be responsible to quarantine yourself and arrange for transportation home when appropriate. — By traveling with us, you are agreeing that TLC Tours, LLC will not be held responsible for contracting Covid-19 or a variant, nor liable for any expenses involved in any way.
E- If you do need to cancel at the last-minute because of having covid/variant, being exposed to covid/variant, or suspecting a possible case of covid/variant, our normal cancellation policies apply, just as they would to any other last-minute illness that prevents you from going on a tour. See General Information/Refunds in this book.  Without insurance, there is no refund except what we might be able to get back from individual vendors on your behalf.  We highly suggest taking out either our in-house Refund Protection Policy, or another more comprehensive insurance plan of your own choosing.
Overall, please lovingly respect the concerns of others if they differ from yours. 
Some may have health issues that cause them to be more cautions than you may feel is necessary for yourself.
– Here's the best plan: "Do Unto Others as You Would Have Others Do Unto You!" –
ON THE COACH
(1) Every Campbell coach is completely disinfected before they depart for a trip. You can be assured that the bus that arrives to pick you up has been thoroughly cleaned with an environmentally friendly solution that is EPA-approved, and not diluted or mixed at our facilities.  The solution is rated on the EPA K-List that supersedes the current EPA suggestion for elimination of Corona Virus and has no harmful properties.  It has received the Green Seal certification.  The solution is applied with electrostatic sprayers to increase coverage to eliminate all pathogens on hard surfaces.
(2) We have upgraded all air filters and increased the frequency that we change the air filters on the coach to reduce contamination.  Our motor coaches refresh the air on the coach every five minutes, and combined with the upgraded filters, will reduce stale used air in the coach.
 (3) We have UV lights in our HVAC system to eliminate any airborne pathogens.
(4) Disinfecting wipes available for the Driver & Escort, and hand sanitizer on board for your use.
(5)  Should the situation regarding pandemic conditions rise during the year, we are prepared to increase the level of our procedures accordingly.
For TLC DAY TRIPS:
For day trips, we do not have any insurance or Refund Protection Plan available.  Payment must be made in full when booking a day trip, and if you cancel your reservation up to 45 days prior to the trip's date, you will receive a full refund.  *Occasionally a day trip may have a different cancellation date other than 45 days out – it is good to inquire when making your reservation.  — If TLC should need to cancel the entire day trip, you will receive a refund.
For TLC OVERNIGHT MOTORCOACH TOURS:
For most overnight tours, a full refund will be made up to 45 days prior to departure date. However, some of our tours, especially the longer ones, may have a 60-day cancellation date.  The specific date will be listed on your confirmation which you will receive in the mail once you make your reservation. Tours including tickets may have earlier non-refundable dates – please inquire when making a reservation for a tour that includes tickets. There are no refunds for cancellations made within the 45 (or 60) days prior to your departure date. However, we will do our best to recover as much as we can, but cannot guarantee anything including prepaid reservations and other costs that are non-refundable to us. There will be a $25.00 per/person charge for this service. There will be no refund, for any reason, for a "no-show" on the day of the tour.
** Please Note: Refunds will be made by the same method you paid us; e.g., if you paid by credit card, the refund will be put back on that credit card. No exceptions.
TLC's REFUND PROTECTION PLAN for Overnight Motorcoach Tours:
 TLC has an in-house "Refund Protection Plan" which we offer for overnight motorcoach tours through our office at a minimal cost. It needs to be purchased when you book your trip. This insures you a full refund in case of:
) A death in your immediate family (requires a copy of death notice)
) Personal illness (requires a doctor's written note confirming you were too ill to travel)
) Exceptions would be made if an immediate family member's serious illness necessitates you staying home, but would still need confirmed by a doctor's note. *Immediate family, in these situations, includes spouse, parents or children only.
The RPP covers you up to the morning of departure; however, you must call your Escort (number will be provided) that morning before your pick-up time in order for the RPP to be valid.  She will need to call all the places the tour is going to change the passenger counts.  Failure to call the Escort that morning cancels your RPP coverage.
Feel free to call our office for full details about TLC's RPP. We encourage you to take advantage of the protection plan, or secure more comprehensive insurance on your own, if desired.
TLC "FLY TRIPS":
For any of our tours that involve flying, the connecting companies we use for our air tours offer their own insurance plans and instructions.  You will find that information listed on each tour's page and/or flyer near the respective pricing and other pertinent details.  It is up to you, of course, whether or not you choose to take insurance out, but it is highly recommended.